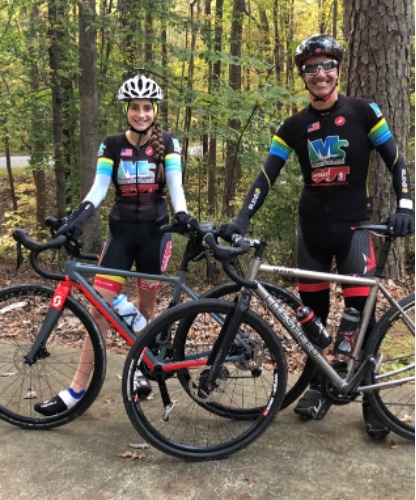 We love gravel riding. And the fact that we have Umstead Park in close proximity makes this awesome type of riding easily accessible to all in the Triangle. As a result, we are adding one more weekly group ride for those who want to ride in the daylight:
➤ When: Mondays at 4 pm.
➤ Where: Rides will be starting from the Old Reedy Creek Road Trail Head, by Lake Crabtree. This parking lot is accessible via Old Reedy Creek Road from Weston Parkway (see map below). Parking and bathrooms are available.
➤ Distance: Approximately 1 hour to 1 hour and 20 minutes, with distance ranging from 12 – 15 miles.
➤ Course: Courses will vary according to the group's ability but they will be geared to the beginner to intermediate gravel rider (or those looking for a social recovery ride). Remember that Umstead Park is hilly.
➤ Level: Beginner to Intermediate rider
➤ Weather: We will ride if the temperature is above 40 degree and if it's not raining. If in doubt, please feel free to email at cidjr@insideoutsports.com
Note: A waver is required prior to joining the ride. You can sign the waiver online at:
IOS Combined Riders Waver and Release
Additional information:
This will be a no drop ride and we will regroup after each hill. Depending on the size of the group, we will split it due to abilities and to keep groups small and manageable.
Social distancing should be respected, especially in the parking lot before and after the ride as well as mask wearing when appropriate.