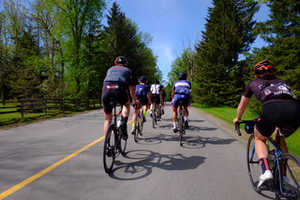 Inside-Out Sports Weekly Evening Road Rides
Our Cary location is sponsoring evening bike rides leaving at 6 pm throughout the spring & summer months. NEW this year is we will have a new weekly route on Tuesday night each week, and Thursday will be the traditional "IOS Loop" route. Please see attached links to download and familiarize with the routes.
Tuesday Night "Green Level" Route
Route at · Ride with GPS
31.2mi, 1414' elevation
Thursday Night "IOS Loop" Route
Route at · Ride with GPS
29.6mi, 1295' elevation
The weekly Tuesday and Thursday rides will begin Tuesday April 5th. We will have ride leaders for the different pace groups. Ride leaders may vary from time to time and introduced before each ride. Please use your discretion on which group you choose to ride with. We encourage both roadies and triathletes to join us for another great year of cycling.
"A" pace group will average 22+ mph for approximately 32 miles
"B" pace group will average 20+ mph for approximately 32 miles
"C"pace group is looking for a NO DROP ride leader
☞ If you are interested in leading a "C" group please contact us.
Note: Front and rear lights are mandatory. It is suggested that front lights have a minimum of 250 lumens.
All Riders Must Sign Our Waiver Forms Online Prior to Your First Ride.
Click Here to Sign Combined Riders Waiver and Release Form
We are in need of ride leaders to help out.
If you would like to lead a group, please contact Brooks Doughtie at brooks@insideoutsports.com or call the Cary shop for more details. 919-466-0101