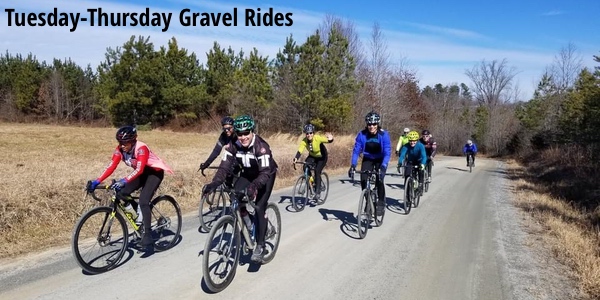 Come join us for some great winter gravel riding!!!!!
Inside-Out Sports in Cary will have night gravel rides leaving at 6pm throughout the fall and winter months.
This ride is part road, part greenway, and part gravel riding. It is intended to give riders a good and enjoyable workout without the pressures of trying to find daylight hours to get outside.
Some nights it will be very cold, wet, snow, etc…..so if you are not a cold winter rider, you will probably not like this ride. However, we intend for this ride to have different levels of riders with expectations that small groups will form and split apart from time to time. There are points to where we wait at either intersections or turns in the route.
➤ When: Tuesdays & Thursdays at 6 pm.
➤ Starting: Tuesday October 12th
➤ Where: Inside-Out Sports Cary parking lot
➤ Distance: Approximately 2 hours with distance ranging from 23 – 25 miles.
➤ Routes: Routes will change from time to time, so anyone interested in picking up the group somewhere other than Inside-Out Sports, it is your responsibility to contact the shop and get an idea of where the ride is heading.
Routes will NOT be posted, published, or consistent, so please don't assume you can meet up without prior information.
➤ Weather: We will ride if the temperature is above 40 degree and if it's not raining. If in doubt, please feel free to email Mike Beaman. at beaman@insideoutsports.com
Additional information:
This ride will keep in line with whatever Social Distancing phase is ordered by NC government.
Front and rear lights are mandatory! It is suggested that front lights have a minimum of 250 lumens. You will need lights to see with, not just to be seen.
Riders must be comfortable in bike handling skills and have experience in off road conditions, but there will be no single track riding.
Gravel bikes, Cross bikes, and Mountain bikes are welcome but not Road bikes. You will need a minimum of 33mm tires.
‼️All riders will be required to sign an online waiver in the link below:
➤ Click to sign Inside-out Sports Ride Waiver and Release
For additional information, please contact Mike Beaman. at beaman@insideoutsports.com