Slowtwitch Road Show
Slowtwitch Road Show Kicks Off Returns to Inside Out Sports, Cary NC on March 4, 2017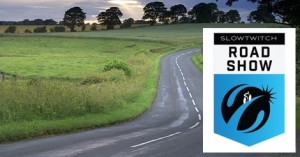 What if we threw a party and an expo broke out?  Well the Slowtwitch Road Show is coming back to where it all began: at Inside-Out Sports! Last year's event at IOS was arguably the best stop Slowtwitch had on their tour. Here is a great summary of last year's show! This was no surprise based on the incredible Multi-Sport community of the Triangle and the surrounding region!
This year's show promises to be even better than last years:
With FS Series, local coaches Chris Newport, Stacey Richardson, and Jackie Miller. Also industry reps with all the newest and greatest from Hoka, Cervélo, QR, Blue Seventy, Wahoo, Infinit Nutrition, 2XU, Compression, and S.O.D.A Covers. The events also include demos by QR, Cervélo, and Hoka.
Also, like last year,  Slowtwitch's own Dan Empfield will be with us all day doing saddle swaps, and sharing his experience and stories of multi-sport over the past 30+ years. Go here for info on Slowtwitch.
Best of all it's FREE  to attend and participate.
Here's the Itinerary for the event so please come join us:
8:30 Bagels, Coffee, Infinit
8:30 2xu will have compression socks, sleeves, and Vectr socks for runners to test on the run
9-10 Lifetime Run Sponsored by Hoka
9:00 Intercyclo Wahoo Class (Reservation Required)
10:30 Yoga with Coach Stacey
11:00 Cyclestar Lube Demo
11:30 Presentation by Cervelo P5X
12:00 Ride led by the Inside-Out Sports Cycling Team The Jiggawatts
12:15 "Running Off the Bike" by Coach Stacey
1:00 Intercyclo Wahoo Class (Reservation Required)
1:15 Chris Newport with "Carbs and Performance- How Low Can you Go?"
1:30 Infinit
2:00 Britfit Coach Jackie Miller – Functional Movement Screening Demonstration
2:30 Perseverance and Resiliency by local exceptional athletes
3:30 Presentation by QR with Jason Biggs "PR Experience in Kona"
4:00 Intercyclo Wahoo Class (Reservation Required)
All Day – Sweat testing by Chris Newport (Appointment required)
See you there!
Inside Out Sports
Your Host: Cid Cardoso Jr